Digital Two-Dimensional Autocollimator OPTRO-AK-011
Digital two-dimensional autocollimator OPTRO-AK-011 is intended for high-precision two-dimensional small engle measurement of engular positions of polygonal prisms, autocollimating mirrors (with plane mirror image surfaces) and metrological calibration of other autocollimators (by means of additional autocollimating mirrors) in scientific and metrological laboratories.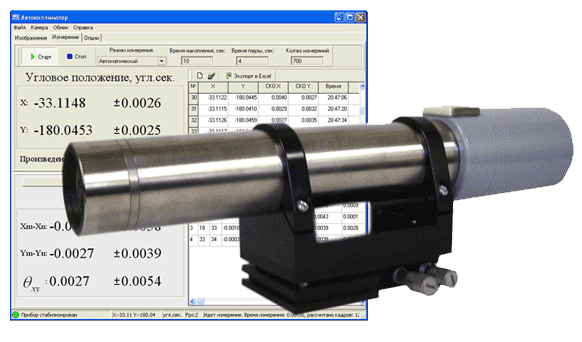 Technical characteristics:
1. Dimensional resolution of output data: от 0.1" до 0.001".
2. engle measurement renge ±12'.
3. Random standard error of engle measurement on each axis in the renge of measurement: max. ±0.01" with accumulation cycle at least 5 seconds
4. Total measurement error for normal conditions in engle measurement renge of ±2' on horizontal and vertical axes: ±0.1".
Total measurement error in measurement renge of more than 2': max. ±0.25".
5. Lens focal length: 320 mm, optical diameter of lens: 50 mm.
6. Measurement errors are regulated for normal conditions of linear and engular measurements and for distance to mirror max. 0.5 m.
7. CMOP camera is used as receiving light-sensitive cell, and data processing is performed by PC or notebook (optional).
See also:
RESEARCH
• Linear and engular measurements using CCD cameras
• Precision of image positioning by CCD camera
• Digital Two-Dimensional Autocollimator with resolution 0.001" of engle
• Calibration of Digital Two-Dimensional Autocollimator